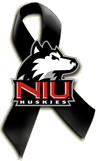 Yesterday in my hometown, a gunman entered a classroom at Northern Illinois University and opened fire on the class, killing 5 students before turning the gun on himself.  In memory of the deceased victims, and in support of the students, faculty, and staff affected by the incident as well as the DeKalb, IL community, I post the ribbon to the left.  It's hard to believe that a tragedy like this could occur in a place like DeKalb, which is known for being a peaceful small(er) town in the middle of the Midwestern cornfields.  My greatest sympathies go out to who have been struck by this incident, in any shape or form.
If you would like to show your support for the NIU and DeKalb, IL communities, you, too may post the ribbon above.  A small section of NIU's website (now transformed into a simple page with information on the tragedy) suggests the following:
Post a Ribbon

Schools, businesses and media outlets across Illinois and the country are posting the ribbon at the top of this page on their web sites in a show of unity and sympathy with the Northern Illinois University community.
It's humbling to be confronted with the fact that even the places you consider to be the safest and most familiar are susceptible to the most inexplicable violence.  Although I did not personally know any of the victims, and although I no longer live in DeKalb, I feel for their family, friends, and the DeKalb community.