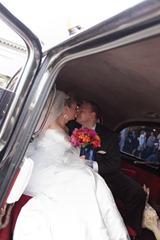 Hey everyone – sorry to have been gone a long time!  I was busy getting married – see the photo to the left?  That's from our wedding day! Check out more on that at http://www.alexaandben.com. But now, I'm back and I'm returning with style – a new style on the blog that is.  Yes, after a lot of work, I've switched over from Blogger to WordPress, because Blogger wouldn't support half the things I wanted to do anymore.  As of a few minutes ago, I even deleted the old Blogger account.  I guess that means the switch is official!
I've got a bunch of things I want to write about now, so expect some cool posts in the upcoming days.  With my return, I plan to blog a lot more, as Alexa (my new wife) is looking into starting an online business or two, so I'm experimenting a bit with different styles and investigating what it really takes to build a blog site these days.  (It turns out there's a lot – more on that in future posts!)
And last but not least, it's summer out here in Seattle and that means lots of festivals at Seattle Center.  Last weekend, we went to the Bite of Seattle and it was tremendous!  Loved the Alley – best $10 for "foodie" food ever spent!
Ooooh!  And I have a new rss feed link with the changeover, so be sure to update your readers!  The new link is: http://feeds.feedburner.com/BbetzsBlog.